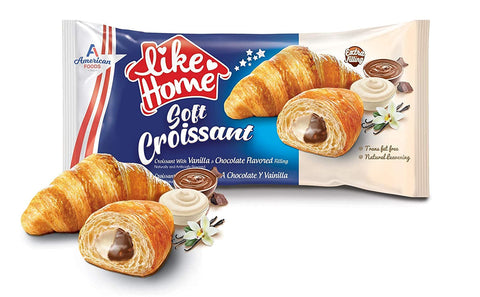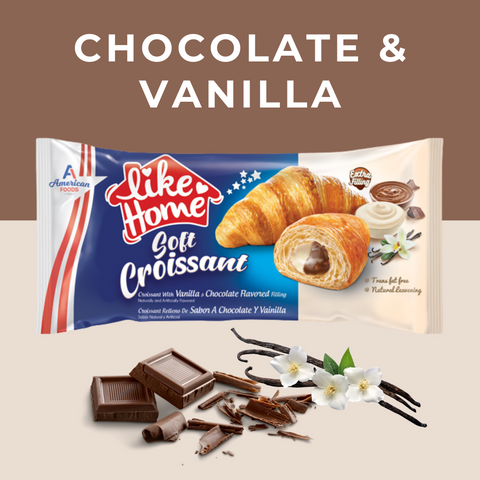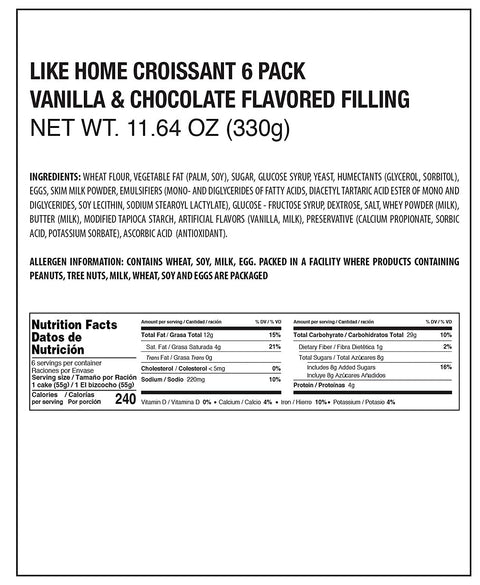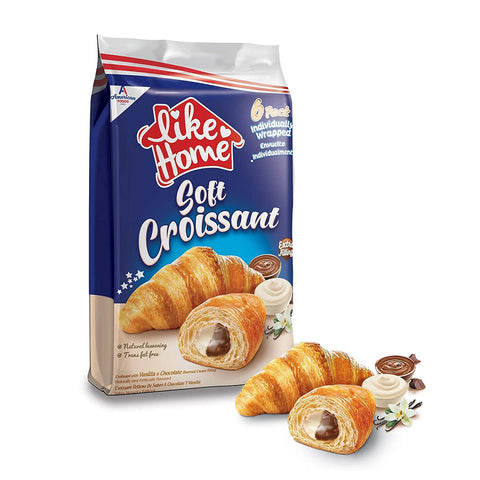 Chocolate & Vanilla Filling Soft Croissant - Individually Wrapped (Pack of 6)
Buttery Chocolate Vanilla Croissant: Boost your day with unbelievably puffy croissants filled with extra delicious chocolate and vanilla cream. A mouth pleasing experience for your sweet cravings delivered to your door. 

Puff Pastry: Upgrade your breakfast bakery with heated Like Home Chocolate Vanilla Croissants in conventional oven or microwave. For best experience, turn microwave on high heat, preheat conventional oven to 350°F, remove item from the packaging and place it inside the oven for 2 minutes. Enjoy the finest baked croissants by Like Home!

Moments: Everything we bake, we do it with love to make you feel Like Home. Treat yourself with fresh snacks! Remarkably better than Crescent Rolls and Honey Buns!

Bulk Snacks Individually Wrapped: Ready-to-eat, 6 individually wrapped croissants perfect for on-to-go! Each pack includes 6 individually wrapped grab-and-go croissants, perfect for snacking during school lunches, office snacks and on-the-go snacks.

Contains: Like Home product family contains.
Ingredients
Shelf Life
Shelf life and best before dates are written on the package. Please see either front panel or back of the product.
Shipping Info
Our industry leading warehouse ships out all orders within 1 Business Day, and you'll receive a tracking number by email. If you can't find the tracking number, you can check your order's progress by logging into your account

Shipping time varies based on where you're located, however, generally it takes 1-5 business days within the US. Expect delays during holidays.

During the summer, all orders are shipped with ice packs to avoid melting. In extreme heat days, we may hold off for a day or two from shipping your package, we will notify if such measures are taken.