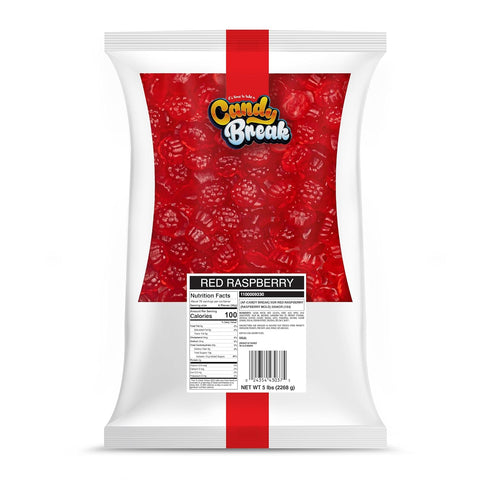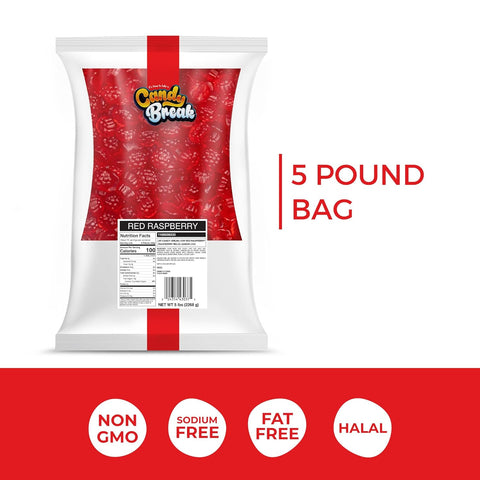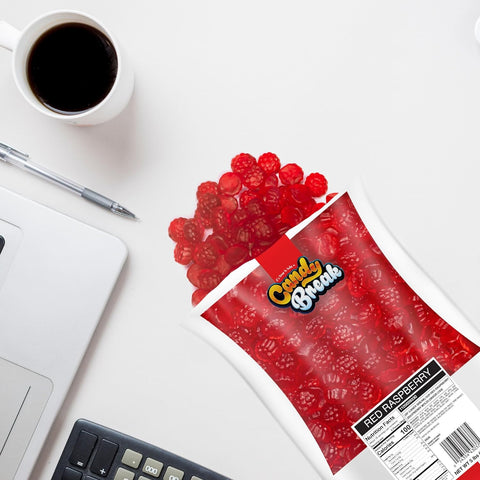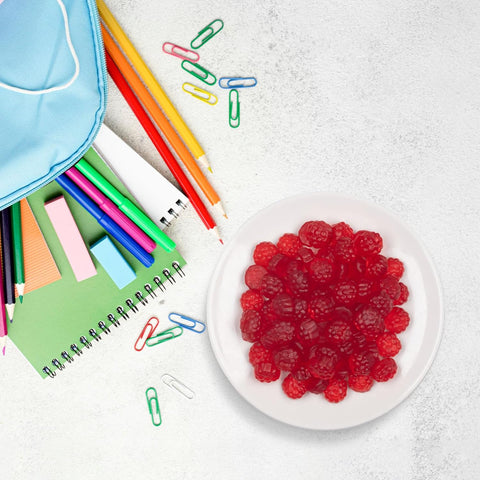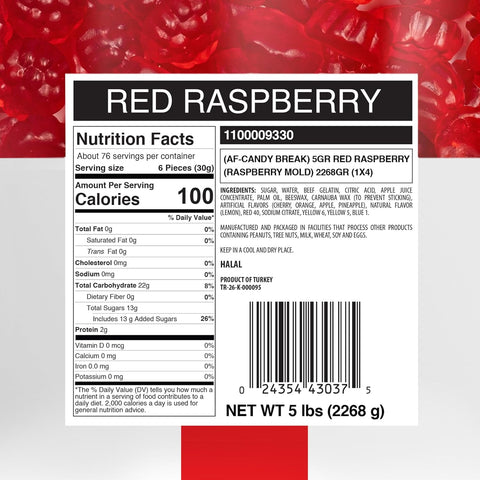 Candy Break Red Raspberry Bulk Gummy Candy, 5 lbs Bag, Share Size Bags - Sweet & Chewy Snacks for Kids & Grown Ups, Party Size (Pack of 1)
Enticing Red Raspberry Delight: Indulge in the luscious taste of red raspberries with our gummy candies. Bursting with captivating flavor, each gummy candy guarantees a mouthwatering experience that will have you coming back for more.

Ravishing Red Raspberry Delight: Dive into the Candy Break Red Raspberry Bulk Gummy Candy—a 5-pound bag filled with fruity sweetness. These gummies, featuring the perfect mix of sweet and chewy, redefine snacking delight for both kids and grown-ups.

Ideal for All Ages: Elevate your taste experience with Candy Break Red Raspberry Bulk Gummy Candy, meticulously crafted to enchant diverse palates. These delectable treats transcend generations and are perfect for cherished family gatherings, picnics, or moments when you crave a touch of paradise.

Snack Time Adventure: Embark on a delightful journey with these party-size candies that promise a burst of fruity sweetness, making it a perfect treat for spontaneous moments—whether it's a quick snack on the go or a satisfying indulgence at home.

Soft & Chewy Bliss: Brace yourself for a flavor-packed adventure with our delightfully chewy and completely mouth-watering gummies - a tender hug of sweetness for your taste buds in every bite!
Ingredients
GLUCOSE SYRUP,SUGAR,WATER, BEEF GELATIN,CITRIC ACID,MALIC ACID, SODIUM BICARBONATE,FUMARIC ACID,TARTARIC ACID,TITANIUM DIOXIDE (COLOR), PECTIN, ARTIFICIAL FLAVORS (ORANGE, BLUE RASPBERRY, APPLE, CHERRY), NATURAL FLAVOR (LEMON), RED 40, SODIUM CITRATE, YELLOW 6, YELLOW 5, BLUE 1.
Shelf Life
Shelf life and best before dates are written on the package. Please see either front panel or back of the product.
Shipping Info
Our industry leading warehouse ships out all orders within 1 Business Day, and you'll receive a tracking number by email. If you can't find the tracking number, you can check your order's progress by logging into your account

Shipping time varies based on where you're located, however, generally it takes 1-5 business days within the US. Expect delays during holidays.

During the summer, all orders are shipped with ice packs to avoid melting. In extreme heat days, we may hold off for a day or two from shipping your package, we will notify if such measures are taken.